Projects for Makumbi Orphans
2022 Projects updates 
Solar Power system upgrade to 5KVA with 2 extra 3.5kWh batteries NOT YET DONE
Computer Lab setting up Stage 2: additional 9 laptops and printer COMPLETED
Renovation of kitchen units with double sink, granite top and double wall cabinets COMPLETED
Pigs and Goat pens expansion NOT YET DONE
Teachers house completion ALMOST COMPLETE
Minibus Toyota Hiace, 14 seater NOT YET DONE
2022 Projects planned 
New pens for goats, sheep and pigs – some to eat and some to sell to local community
New bore hole for water
Renovation of kitchens in the houses including new sinks, fridges, counters, cupboards
New computer tablets for children to use
---
Past Projects
2020-2021 Projects completed during pandemic
Dish TV installation and TV sets for each of the houses
Solar power installation
Office computers
Computer lab set up for children
White boards for school rooms
Text books for children (local schools were closed)
Additional clothes, shoes, kitchen utensils, mirrors for each house
2019 Projects
Micro Grants for the Teens who will be graduating from the orphanage. The teens will be able to use these grants (around $300) to either start a business or further their education. The teens utilizing these grants are:  Ablant Tinashe, Annah Chizhanje, Chipo Mutero, Tanyaradzwa Chikoza, Charity Tinashe and Tafadzwa Chombo.
Repairs to the eight cottages that house the orphans. These repairs will include new electrical outlets, roofing and plumbing.
Also, Father Admire, who has been studying philanthropy in Hong Kong has written this Projects 2019 – Comparison of Makumbi Children's Home and the Warthog.
2018 Project
Project: Micro grants for youth aging out of the orphanage
Goal: Provide micro grants to further one's education or start a small business
Makumbi Children's Home is trying its best to educate children who are above eighteen years of age. The Home is sending them to universities and to vocational colleges where they are doing different courses. This is a transition or a preparation of weaning them off so that they can be self-reliant. Four of the Children are studying at Midlands State University and one is studying at the University of Zimbabwe. Six are doing vocational courses like Carpentry, hotel and catering, nurse aid and tourism and hospitality. Four children completed their vocational last year 2016. Six are in preparation of doing vocational courses and 2 are doing O'level. Home aims to equip every child so that they can help themselves in future.
View the profiles of 25 Makumbi Teens who are aging out (pdf)
2017 Project: Tutors for Makumbi orphans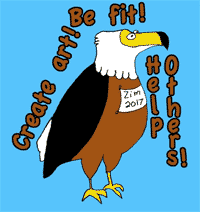 Hungwe, the African fish eagle says, "Give a kid a fish and you
feed him for one day. Teach a kid to fish and you
feed him for a lifetime!"
The goal for the 2017 fundraising project, Tutors for Makumbi Orphans, was to test for gaps in the kids' learning and help them achieve grade level via tutors and a coordinated program of teachers, community volunteers and the caregivers (aka "Moms") of the orphanage.
Donors can truly help prepare a child for life by supporting their education.
2016 Project: Plumbing renovation
Download 17th Annual Run for Zimbabwe Orphans 2016 Plumbing Project (pdf)
The pre-project reality at Makumbi Children's Orphanage was:
Old pipes that plug
Leaky pipes "fixed" with rubber bands
Pipes that spew rust and sludge
Cholera Alert signs posted by UNICEF
Children tote water when water is unsafe to drink, cook or bathe
The capital project at Makumbi in 2016 was plumbing renovation at the eight cottages that house the 100 orphans thereby combating water borne diseases.
2015 Project: Termite damage repair
As a result of the 2015 run we raised $32,000 for termite damagerepair.  (The buildings were literally falling down!) This project was a huge success and all the termite colonies were completely eradicated.
2014 Project: Halfway cottage construction and college tuition for older girls
Those benefiting from this fundraising project were girls aging out of the orphanage. We were pleased to raise enough funds to build a halfway cottage and send three young women to college for one year.
---
For more information about our foundation contact:
Sustainable Living Foundation
156 Marvin Ave.
Los Altos, CA 94022
Contact Us