Businesses, Sponsors & Volunteers

Funds raised
2016 Run: $35,000
2015 Run: $32,000
2014 Run: $35,000
2013 Run: $34,000
2012 Run: $32,700
2011 Run: $35,000
2010 Run: $27,000
2009 Run: $33,000
2008 Run: $38,000
2007 Run: $30,000
2006 Run: $20,500
2005 Run: $17,000
2004 Run: $16,000
2003 Run: $14,000
2002 Run: $10,170
2001 Run: $ 8,715
2000 Run: $ 5,263
Download Chart of Funds Raised
2016 Run: A World of Thanks stretching from Zimbabwe to these businesses, organizations, foundations and individuals for their continued support.
The Wakerly Family Foundation—John Wakerly and Family Without this incredible foundation the Run for Zimbabwe Orphans would not be a "go". They under-write the expenses for the Zimbabwe Run every year. (See items listed under SLF.)
The Sustainable Living Foundation: Bill and Ellen Clark, Teresa Clark and Dave Ruminski, Will and Kristin Clark, Dee Gibson www.ZimbabweParaguay.net Gifts: Zebra Pops from Dee Gibson. Items for the meet: Trophies, ribbons, programs, certificates, numbers, perpetual trophy, Zimbabwe money, zebras for art fair, complementary entries.
Anonymous—Big raffle prizes, Giraffe, coffee mug & books
Chinyakare Ensemble of Oakland, Zim music www.chinyakare.com
The City of Mountain View, Proclamation, Mayor Pat Showalter
The Copy Factory of Palo Alto www.copyfactory.com
De Martini Fruit Stand of Los Altos, crates of fruit www.demartiniorchard.com
From our Feet Shoe Drive, Nick MacFalls Email
Hobee's California Restaurants, coffee cake www.hobees.com
Jesuit Missions of London England
Jesuit Province in Harare, Zimbabwe
Hengehold Truck Rental, Discount on Truck Rental www.htrucks.com
The Knights of Columbus, St. Sebastian Council 4926 *Special Volunteer
Los Altos Hardware, Discount on supplies.
Linden Tree Children's Books, Promotion & Poetry Slam www.lindentreebooks.com
Macaroni Kids—A Web site of Kids' Activities www.paloaltomacaronikids.com
Peter and Stephanie MacKenzie Family of Los Altos Hills, Construction of the Germ Game
Makumbi Children's Home, Fr. Admire Nhika (Foundation)
Marriott Hotel, Lodging for Gray Mavhera & Angela Gora www.marriott.com
On Your Mark of Los Altos Promotion www.onyourmarkperformance.com
Peet's Coffee, African Coffee Beans www.peets.com
Promessi Paintings and TCP Design www.tpromessi.com Business
Tom Robato, Los Altos Handyman to the Clarks. Construction of Germ Board. Ph: 650.630.5095
Sadza Marimba and Mbira Band www.sadza.net Music
Girley Tegama, Author of "Fireside Poetry"
Angela Gora Africa Wellness Initiative Sadza Buffet www.awiproject.com Foundation
Saint Joseph Parish, Rev. Engelberto Guzman Gammad and Anne Nowell of St. Joseph School
Whole Foods, yogurt for participants www.wholefoodsmarket.com

The Wakerly Family Foundation, underwriters of this meet. Without them this meet could not happen!
News Media: The Los Altos Town Crier, The Mountain View Voice, Valley Catholic
Special Volunteers from Organizations and Individuals
Apollo High School (East San Jose), Organizer Teacher Nate Bowen
AVID Program (Advancement via Individual Determination) of Los Altos High School, Organizer Paola Campos
Chip Sisters and Chip Brothers Running Club, West Valley Track Club, Organizer Bill Clark
Community School of Music and Arts www.artsforall.org
Clark, Will , T-shirt design
Day Worker Center, Organizer Maria Marroquin www.dayworkercentermv.org
Gibson, Dee Lollipops
Girley Tagama, Website promotions
Ellen's Coffee Clatch at Peet's Laura, Valerie, Claudia, Debra & Jim
Fremont High School Key Club
Homestead High School Interact Club
Stephanie MacKenzie, Karen Saxena & Dirk Hoekstra Registration & Technology & MUCH MORE!
National Honor Society of Los Altos High School
Promessi, Tatiana! (No way could we do this race without our expert, lovely, wonderful webmaster!)
St. Francis High School x-country & track teams
St. Joseph School Parents, students and teachers
Traveling from afar

*** The Gray Mavhera Family—Gray, Mwadeyi, Gray Jr. Kela—from Moreno Valley (So. Cal) Gray is the accomplished master Zim runner! Mike and Chanthy Clark from Oakland—our videographer; And lending moral support from Leonardtown Maryland—Teresa, Dave and Antonia The Clark Ruminski Family
Poetry Slams & African Folk Tales
A Long Season of Entertaining Children and Learning About Africa!
THE NUMBERS

16 Poetry Slams African Folk Tales at schools, clubs, stores & the library!
More Promotions at other events!
Feb. 12 Stratford School, Washington Park Sunnyvale
Feb. 19 Brownie Troop, Episcopal Church, San Mateo
Feb. 22 Red Rock Coffee Shop, Open Mic, Castro St. Mtn. View
Feb. 24 Apollo High School, East San Jose
Feb. 25 Mountain View Adult Education, Even Start
Feb. 26 Stratford School, De Anza Campus, Sunnyvale
Feb. 29 Children's Cottage, Aptos
March 1 Edith Landels Elementary School, 1st grade classes, Mtn. View
March 2 Clifford Elementary School, 4th grade classes, Redwood City
March 3 Children's Corner on Hillview, Los Altos
March 4 Stratford School, Pomeroy Ave. Santa Clara
March 9 Los Altos Public Library on San Antonio, Los Altos
March 11 St. Joseph School Assembly
March 14 Girls on the Run, Covington School Branch
March 15 St. Simon Pre-School, Los Altos
March 16 Mountain View Adult Education Pre-school, Mountain View
Other Promotions
Special Promotions at: Fire Drill 5k, 10k, Juana Run, St. William Church, St. Joseph Mtn. View, St. Francis T-shirt Day, On Your Mark Store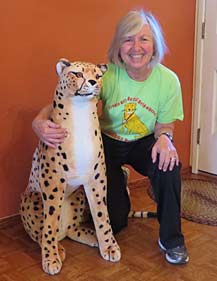 Special thanks to Todd and Kimberley of the Copy Factory Palo Alto. Go to the Copy Factory, they are truly the best for your photocopy news!

3929 El Camino Real, Palo Alto
It takes $350 a year to support one child at Makumbi. Orphan sponsors will be listed at the run and updated in our web site after the run.

Ibet and Grant Allan, Mountain View
Anonymous - in honor of Coach Bill Clark
Paul and Debbie Baker, Los Altos
Conny and Terry Barton, Mountain View
Jim and Diane Bordoni, Los Altos
Pete Chow and Carla Holmes, Los Altos
Nancy Clark, Oak Park, IL
Tom and Eileen Clark, Wynnewood, PA
Bill and Ellen Clark, Los Altos
Ellen Corey and Tom Sartor, Los Altos
Paul and Karissa Davis, Boise, ID
Jim and Diane Ducey, Mountain View
Hal and Mary Jo Feeney, Los Altos
Dee Gibson, Los Altos
Trevor and Lynda Hastie, Stanford
Wini and Lee Jebian, Mountain View
Karen and Reed Jenney, Los Altos
Jennifer Lebsack, Redwood City
Patricia Marriott, Los Altos
Dennis and Margaret McCarthy, Mountain View
Miao Family Foundation, San Jose
John and Barbara Nicewonger, San Jose
Notre Dame Alumni Club of San Jose
Gay Lawrence and Dorothy Pang, Los Altos Hills
John and Valerie Pogi, Los Altos
Roldan Family, Los Altos
A Runners Mind, San Francisco
Sean and Pearl Seley, Los Altos Hills
Bernie Smith, McKinney, TX
Scott and Elizabeth Sneeden, Mountain View
Wakerly Family Foundation, Mountain View
West Valley Track Club, Bay Area
Jerry and Julie Yaffee, San Carlos
Peter Zepter, Mountain View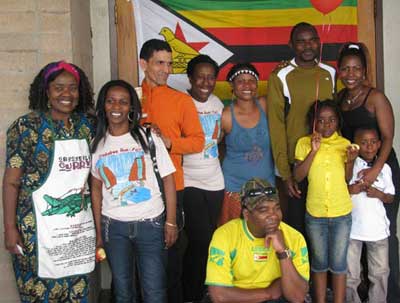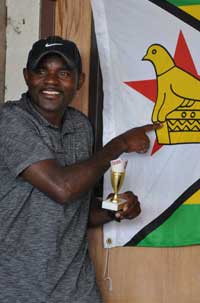 Our foundation supports AIDS orphans in Zimbabwe and books and gardens for Paraguay.
Read about our foundation or contact:
Resources we recommend
---